Journal Club 07-29-22 – Passive Income M.D.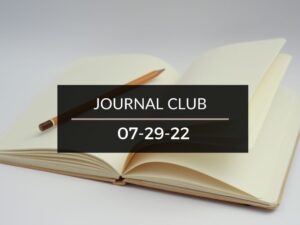 Here's Journal Club 07-29-22! Every week, I hold a JOURNAL CLUB. After filtering through the articles on the web, I present a few that impacted my life this week. Be safe and stay well!
---
What's a good way of knowing your financial progress over the past month, quarter, or year? Hint: regularly tracking your goals and expenses. It's an excellent way of holding yourself accountable and keeping you on the path to achieving your financial objectives. With that spirit, the author of

Dr Pay It Back

reviews their financial performance and targets in the article –

Checkup – May 2022

.
Surely you've heard the phrase "you don't appreciate something till it's gone." Ever wonder why people say that, and if that's true, what's our key takeaway? The author of

One Frugal Girl

reflects on this fascinating revelation based on her personal experience in the article –

Appreciate What You Have While You Have It

.
That's all for this week! I hope this week's journal club was helpful.
Read any interesting articles? We'd love it if you could please take a moment to share them in the comments below!
Thank you for reading and sharing,
Peter