Chasing rental yield or capital growth? Here are the best regions for investors
While owner occupiers have dominated the market over the 12 months to March 2021, comprising 76 per cent of all new home loans, investors have started to catch up, according to CoreLogic's latest Property Pulse.
Over the last six months, the value of investor loans rose 48.1 per cent, while the value of owner occupier loans increased by only 29.7 per cent. The March quarter saw the same gap, with lending to investors taking the lead once more with an increase of 28.7 per cent, while owner occupier loans added just 12.4 per cent.
With investor lending clearly poised for a comeback, CoreLogic analysed the potential for growth across each state and territory.
Chasing capital gain
For investors chasing capital, the winner for both houses and units is Sydney, with average annual growth each year for the past 10 years at 6.6 per cent and 4.5 per cent, respectively.
"With most investors focused on capital gain rather than rental return, this track record of growth might help to explain the popularity of Sydney amongst investors," research director at CoreLogic Tim Lawless said.
However, over the past 12 months, the COVID pandemic has caused some major disturbances, which have seen house prices rocket across the other capitals. With strong growth across Darwin (18.2 per cent), Canberra (16 per cent), Hobart (14.3) and Adelaide (11.1 per cent), Sydney came in fifth as prices ballooned a less impressive 10.4 per cent.
As for the unit market, Sydney recorded the lowest growth of 0.9 per cent compared to top ranking Hobart with growth of 11.6 per cent.
Looking at the ten year average growth across the regions, towns in New South Wales emerged as the winners for houses with an average annual growth of 4.4 per cent, while Victoria took the lead in the unit market with 3.9 per cent.
But over the last 12 months, the situation differed again, with Tasmanian houses overtaking New South Wales with a growth of 17.8 per cent versus 16.3 per cent. New South Wale units (11.1 per cent) also slid down during the same period, coming in second to Victoria (13.6 per cent).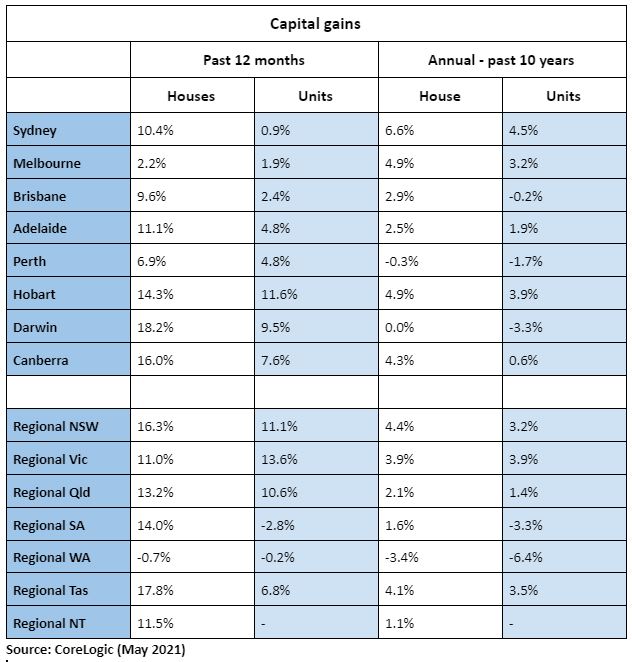 Chasing rental yield
For investors focused on cash flow opportunities, the smaller capital cities could be the winners.
The highest gross rental yield for houses as of April 2021, can be found in Darwin at 5.6 per cent. Following closely is Hobart with 4.4 per cent, PerthPerth, TAS Perth, WA with 4.3 per cent, Adelaide with 4.1 per cent and Canberra with 4 per cent. Sydney and Melbourne were marginally lower at 2.4 per cent and 2.6 per cent, respectively.
In the unit market, the highest gross yield was recorded in Darwin at 7.2 per cent, followed by Canberra with 5.5 per cent, Perth with 5.4 per cent, Adelaide with 5.3 per cent, Brisbane with 5.1 per cent and Hobart with 4.9 per cent. Sydney and Melbourne were once again at the bottom of the list, with yields of 3.2 per cent and 3.5 per cent, respectively.
In regional Australia, the highest gross yield for houses was recorded in the Northern Territory at 6.3 per cent, while the highest gross yield for units was recorded in Western Australia at 8 per cent.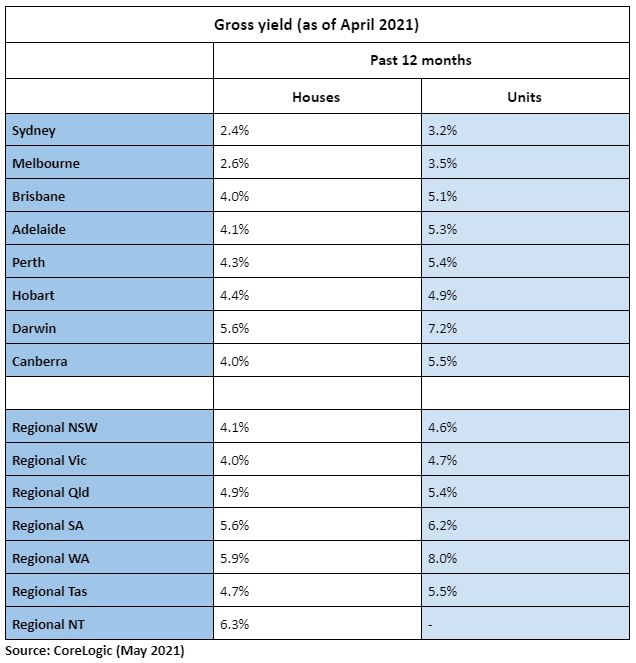 Total return
While some investors are divided on whether to prioritise capital gains or rental yields, Mr Lawless said total returns is where their focus should rest. Total returns provides a measure of the annual capital gains plus annualised gross rental returns, and therefore the best overall investment returns.
Looking at this scale, Hobart emerged as the winner, achieving an average annual return of 10.5 per cent for houses and 9.3 per cent for units in the past 10 years.
Over the past 12 months, the highest returns across the capital cities were clocked in Darwin for houses at 24.4 per cent and Hobart for units at 16.8 per cent.
Across regional Australia, the highest 10-year average annual return was recorded in Tasmania for both houses and units at 10 per cent and 9.5 per cent, respectively.
Tasmania also took the top spot for highest return for houses in the past 12 months with 24.5 per cent, while Victoria took the top spot for units with 19.3 per cent.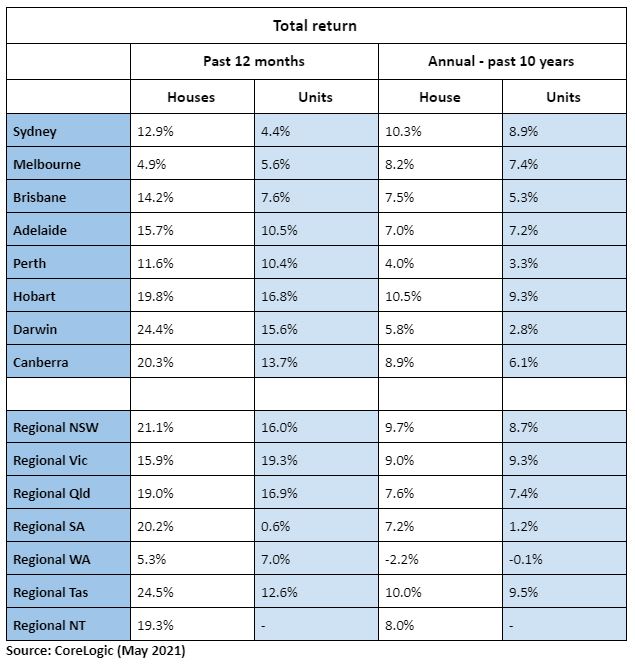 Looking ahead
While historical data could be the basis for research, Mr Lawless reminded investors that past performance isn't necessarily a guarantee of future performance.
"In fact, the best investment options may be those markets that have underperformed over previous cycles, providing a more affordable environment and generally higher rental yields," he said.
Apart from affordability, demographic factors, overseas and interstate migration and economic conditions will also play a significant role in determining housing conditions over the next few years, according to the researcher.
"South East Queensland, Perth and regional areas of Victoria and New South Wales are all showing a positive demographic trend.
"Regions with a diverse economic base are also likely to show less risk relative to areas with shallow economies. Trends in jobs growth, employment rates and capital investment such as significant infrastructure spending are also critical for picking areas ripe for investment," Mr Lawless concluded.