ACT nixes stamp duty for off-the-plan units
Canberrans who are looking to downsize will be able to save thousands of dollars with the recent move of the ACT government to abolish stamp duty for off-the-plan apartments and townhouses.
The move applies to off-the-plan purchases of up to $500,000. With this change, anyone purchasing an off-the-plan apartment or townhouse valued at $500,000 will save $10,360.
Andrew Barr, chief minister of the ACT, said this is a further step in the territory's tax reform program and one that encourages an increased supply of housing below the $500,000 threshold.
"If the government hadn't started this reform back in 2012, and the government had continued to raise revenue in the same inefficient way, buyers would be paying $20,500 in stamp duty for the same property that will permanently have zero stamp duty in the ACT starting this month," he said.
Barr believes that by abolishing inefficient taxes such as stamp duty and replacing this with the fairest and most efficient tax base, the territory will be able to increase economic activity and support housing affordability.
"Whether you're looking to purchase your first home, downsize or upsize, the reduction of stamp duty rates will make it easier to purchase and ensure all Canberrans will benefit from fairer, simpler and more efficient taxes and duties," he said.
The ACT government will also cut the stamp duty across a range of property purchases in the ACT. For instance, the duty on any owner-occupier purchase between $200,000 and $450,000 will be $1,040 lower in 2021-22 than in 2020-21.
The changes are stated in the table below: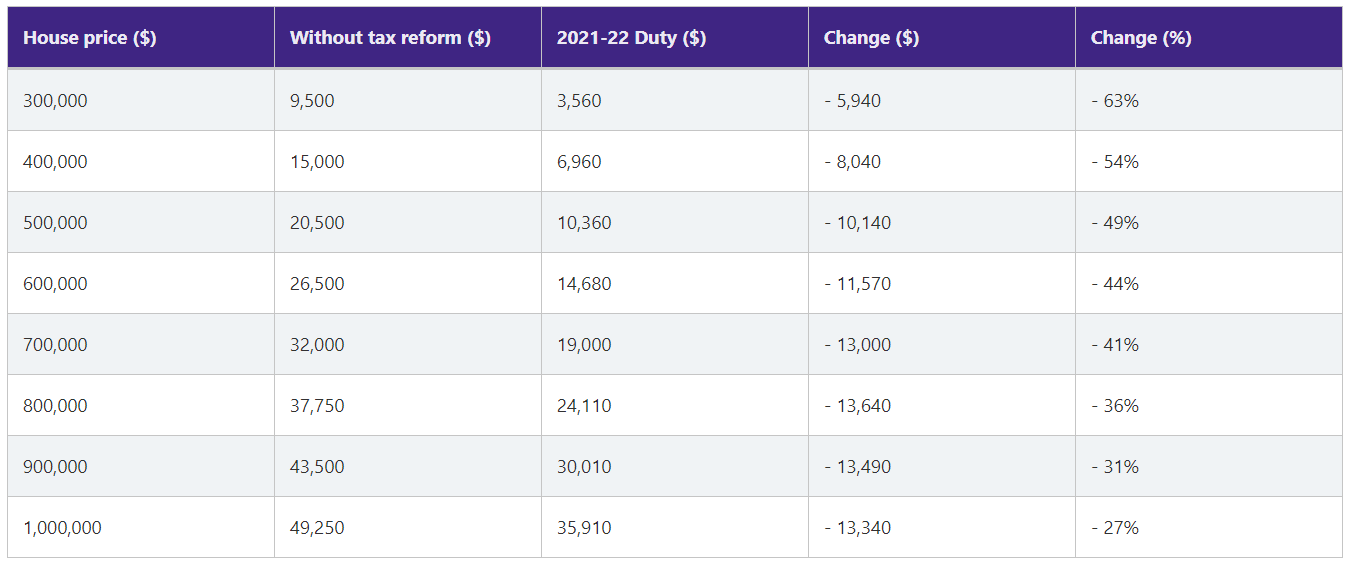 Top Suburbs :


reservoir

,

padbury

,

trott park

,

willliamstown

,

gladesville


Get help with your investment property

Do you need help finding the right loan for your investment?
When investing in property, it is important to make sure that you not only have the lowest available rate that you can get, but also have the correct loan features for your needs.
Just fill in a few details below and we'll then arrange for a local mortgage broker to contact you and work out what features or types of loans are right for your needs. We'll even help with the paperwork. Plus an appointment is free.
We value your privacy and treat all your information seriously – you can check out
our privacy policy
here