#118 Purpose, Identity, & Connections… The Grit Of A Good Life
In this episode, Peter interviews his long-time friend Dr. Jordan Grumet. Dr. Grumet trained in internal medicine and is currently a hospice doctor. He is also the host of a widely popular podcast called Earn & Invest.  
New on the shelf, Jordan has authored a book called Taking Stock, A Hospice Doctors Advice On Financial Independence, Building Wealth, and Living A Regret-Free Life.  
Jordan shares his inspiring story of moving past burn-out to practicing medicine in the areas where his passion lies. He also describes that before you begin your journey into financial independence, do the work in defining what a good life would be for you in areas of purpose, identity and connections. 
This episode is a must-listen! 
---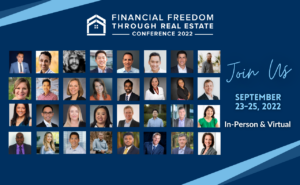 The Financial Freedom Through Real Estate Conference (PIMDCON 2022) is a curated, high-yield event designed specifically for physicians and high-income professionals. 
PIMDCON 2022 will give you the strategies you need to invest with confidence from people who have already done it themselves! You will have access to Real Estate Strategies By Doctors For Doctors.  
Did you know that Brandon Turner, once host of the Bigger Pockets Podcast, will be our keynote speaker this year? 
Brandon is the founder and managing partner of Open Door Capital. He is widely recognized as one of the foremost experts on real estate investing. He is the best-selling author of several books including "The Book on Rental Property Investing", "The Book on Investing In Real Estate with No (and Low) Money Down", "The Book on Managing Rental Properties", "How to Invest in Real Estate" and "The Intention Journal".
You don't want to miss it!
The conference will also provide wisdom and insight into navigating real estate investing in today's volatile environment. Seats are limited!
September 23rd – 25th, 2022 in Los Angeles, CA
---
Now, let's look at what we discussed in this episode:
Transition from internal medicine to hospice doctor.

How to F.I.R.E.

Wealth and Identity Formation.

3 keys needed before you plan your journey towards financial independence.

How you can discover your purpose, identity, and connections.

From blog to podcast, to book.
Here's a breakdown of how this episode unfolds…
[2:20]
Jordan carries his personal story of becoming a hospice doctor. From burn-out to practicing medicine on his own terms sparked the drive back into his career. During those years, the entrepreneur journey started with a blog, real-estate investing, side-hustles… which led to his podcast and now his new book.
[6:55]
Jordan tells his story of reaching financial independence through real estate so that he could retire early.
[8:02]
Peter asks Jordan to discuss the idea of wealth, letting go of a high-income professional income, and loss aversion. Identity is not a money problem, based on the thought of "not enough money." We find identity by asking, "How do I want to use this money to better my life and the lives of others?" "How do I use this money to enjoy the time I have to live?" 
[10:52]
People often make the mistake of building a financial framework first. Jordan recommends you begin by thinking about 3 concepts in life and then move to the financial framework:
Purpose

Identity

Connections
These three keys are the grit of what a good life is made up of.
[12:57]
Jordan and Peter talk about ‌discovering your purpose, identity, and connections. He recommends that we all should do a "life review" to find purpose. He also defines how you could do a "reverse lottery ticket" which focuses not on how to spend your money, but how you would spend your days. What brings meaning to you? Another activation he gives is to finish the sentence "I Am…" and continue doing this until you get beyond what you do to who you are. 
[19:21]
From blog to podcast to book. Jordan tells his story of becoming a communicator while he was finding his identity as a communicator and real-estate investor. The one question he continued to ask was, "Now What?"
Click Here to order the book: Taking Stock, A Hospice Doctors Advice On Financial Independence, Building Wealth, and Living A Regret-Free Life.  
Learn more about Dr. Jordan Grumet >> https://jordangrumet.com/
Subscribe & Review on iTunes
Hey there – are you subscribed to my podcast?
Click here to subscribe to iTunes! If you aren't, please show your support of the show by doing so now. I don't want you to miss a beat, so if you're not subscribed, there's a good chance you'll miss out on those.
If you're one of our super special listeners, I would be appreciative if you also left me a review on iTunes. Those reviews help other people find my podcast. Why not spread the insight to help other physicians and professionals on their passive income journey? Just click here to review, select "Ratings and Reviews" and "Write a Review," and let me know why you enjoy the show so much. Thank you!
Other Ways To Enjoy This Post:
Download a Transcript (coming soon!)  
Download on iTunes 
Join the Passive Income Docs Facebook Group
Join the Passive Income Professionals Facebook Group
---